Happy Holidays Everyone.
Did you enjoy last year's parade?
We sure did!
Remember, this Parade is a VOLUNTEER effort.
If you would like to contribute, please visit our CONTACTS page and give us a call or fill out the form.
2022 Boat Parade Winners:
1st place – Jimmy Johnson
2nd place – Pat Hayes
3rd place – Jonathan Jones
Tiny Tim – Scott Rein
Thanks to our 2023 Supporters
2023 Bayou Vista Christmas Boat Parade Raffle Item Donors:
Erick and Hanh Grizzoffi, Texas Ash, Hair by Laurie Marino, Bayou Vista Beverages,
Bayside Chic Galveston, Underwater Green Fishing Lights, Leigh Ann Ayala Fancy Island Spray Tanning,
Southern Spears Surf Shop,
2023 Bayou Vista Christmas Boat Parade Sponsors:
RL and Jean Newsom, Eric and Hanh Grizzoffi, Lee DeForke, Paul Hershey,
Bart Price- Gulf Coast Insurance Solutions, TexCoast Renovations, Fat Boys,
Saltwater Garden Club, Gayle Hair Design, Claudia Kaiser, Jane Gibson, John Kunz,
Mina Lum, Jane Rigsby, Richard Posadas,
The Johnstones
Welcome to the annual Bayou Vista Boat Parade.
(To find us on FACEBOOK  CLICK HERE )
This year our parade will be on Saturday, December 9th, 2023.
This year's Coordinators are:
Ash Searcy (361)904-2602    and
Hanh Grizzoffi (832) 282-9275.
Thanks Ash & Hanh, more info may be found on the Contacts page.
Parade Route:
Odd-numbered years, parade starts on Dolphin.
Even-numbered years, parade starts on Blue Heron.
Decorated boats will meet at 5:30 PM in Highlands Bayou, in front of 159A /160 Tarpon (Newsome's house).
Parade will begin at 6 PM.
After Party: After Party is at 1316 Blue Heron- Eric and Hanh Grizzoffi.
How to enter
Online entry form is available on this website. (Click this Online Entry Form)
This is the preferred method of registration.
You may also print out an entry form. Then just fill it in and drop off or mail as directed.
(Click this Printable Entry Form)
How to help
Enter the parade, enter the parade, enter the parade.
Become a supporter. (Visit the Contacts page.)
Help get supporters, gift cards, donations, etc. (Visit the Contacts page.)
All supporters will be acknowledged on the website, social media and at the after party.
All participants and supporters are invited to the after party – prizes, music and food!
Captains info
Captains meeting:

  Wednesday, November 29th @7pm, Baja Cantina, Bayou Vista      

See the info on the Captain's Info page. (Click this Captains Info page)
How to get more information
JUDGING – NEW FOR 2023 ****
**** More JUDGING info Coming Soon ****


This year, the people will judge! We will have winning categories and let Facebook decide!

>The Loudest
>Most Lit
>Most Festive
>Most Creative
>Most giving

>Tiny Tim (smallest)
>Yeti (biggest)
Thanks to our Supporters
It is only with the help of our parade Supporters and hardworking volunteers that our Bayou Vista Annual Christmas Boat Parade has been able to continue for so many years. Thanks to all who help contribute to this great event. Please support all these fine folks.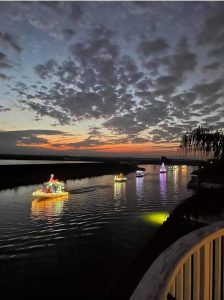 2020 parade start down the lateral canal